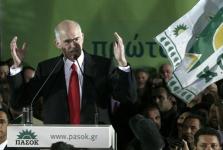 Macedonia must meet Greece half way on the name issue if a settlement for the long standing spat is to be found, Greek Prime Minister George Papandreou said.
Athens has already made concessions by accepting a name that would include Macedonia with a geographic determinant, Papandreou said in an interview for the Belgrade-based newspaper "Vecernje Novosti".
"Either we'll find a mutually acceptable solution, working together in the spirit of cooperation and helping our nations to strengthen their friendly ties, or we'll continue renewing the issue by taking extreme stances and by making nationalistic rhetoric our daily political food," Papandreou said.
The unresolved 18-year-long spat left Macedonia's NATO and EU aspirations in question due to the Greek blockade.
Last month Greece prevented the EU countries from extending a date for the start of Macedonia's EU accession talks.
In 2008 Athens also blocked Skopje's NATO accession over the same issue. Athens insists that Skopje's constitutional name, Republic of Macedonia implies territorial claims towards Greece's own northern province, also called Macedonia.
The UN sponsored bilateral name talks have so far been in vain, but the EU and US are pressing for a speedy solution.