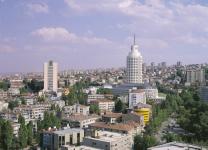 Turkey's foreign minister on Tuesday urged Bulgaria to refrain from statements that could hurt the relationship between the two countries, after Sofia threatened to block Ankara's EU membership pending compensation for ethnic Bulgarians thrown out of Turkey nearly one hundred years ago.
"Friendship between Bulgaria and Turkey is for the good of the two countries. It would be much better if statements that might hurt this friendship are avoided," Ahmet Davutoglu said.
His statement came after Bulgaria's minister for Bulgarians Abroad said his country may block Turkey's application to join the EU pending the payment of billions of euros in compensation for the displaced Bulgarians, who were thrown out of Turkey in 1913, during the dying days of the Ottoman empire. He put the total sum at 14 billion euro.
"One of the three conditions of Turkey's full membership of the EU is solving the problem of the real estate of Thracian refugees," said Bozidar Dimitrov, as quoted by Bulgarian newspapers.
The Ottoman Empire in 1913 expelled hundreds of thousands of ethnic Bulgarians from lands lying on the western side of the Bosphorus. When Turkey was formed in 1923, it recognised the rights of these displaced in a subsequent treaty in 1925 with Bulgaria, Sofia says the treaty was not implemented.
An official in the Bulgarian government press office, Veselin Ninov, told the EUobserver news service that Dimitrov's statement reflect government policy and that the dispute is being handled by a Bulgarian-Turkish intergovernmental working group. He said the Bulgarian prime minister Bojko Borisov will raise the issue during a visit to Turkey in January or February.
But Davutoglu said Sofia has not approached officially Ankara with these claims.