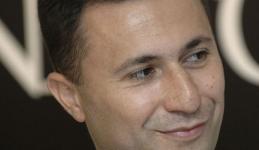 Macedonian Prime Minister Nikola Gruevski during an official visit to Israel welcomed Serbian President Boris Tadic's offer to mediate in his country's name row with Greece.
"Tadic's offer is well-intentioned. He is neither the first nor the ast politician who wishes to help. Many have tried and others just expressed a wish to help. Everybody who wishes to help is welcomed," he said on Wednesday afternoon, MIA news agency reported.
Athens and Skopje have been locked in a dispute over Macedonia's name, which has so far blocked Macedonia's entry into NATO and progress in EU accession.
Athens argues that Skopje's constitutional name, Republic of Macedonia implies territorial ambitions over its northern province, also called Macedonia.
Tadic offered to help on Tuesday after meeting with the Greek Prime Minister George Papandreou in Belgrade.
Gruevski also commented the recent remarks by Papandreou who during his visit to Belgrade said that both Skopje and Athens should make concessions and meet in the middle in order to strike a deal over the name issue. In an interview with Belgrade-based newspaper "Vecernje Novosti" Papandreou said that Greece made a crucial concession by accepting the name Macedonia with a geographical determinant as a possible solution.
"I have an impression that sometimes Greece speaks what Brussels wishes to hear and does what its citizens wish to see," Gruevski said briefly.
After Greece last month prevented the EU from extending a start date for Macedonia's accession talks, media have speculated that former EU foreign minister Javier Solana or the Slovenian Prime Minister Borut Pahor may take the role of EU mediator in the dispute.
However EU officials have said that efforts to resolve the dispute should remain primarily under the auspices of the UN. The UN mediator Matthew Nimetz has yet to set a date for fresh name talks.