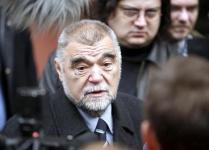 Relations between Serbia and Croatia reached another critical juncture after Croatian President Stjepan Mesic on Thursday decreased by one year a jail sentence of a convicted war criminal, who took part in the executions of ethnic Serb civilians in the Pakracka Poljana region of western Slavonia in late 1991.
Serbian President Boris Tadic announced on Friday that shortening Sinisa Rimac's sentence was an anti-European, uncivilised move that cannot be justified.
"When the outgoing Croatian president pardons a criminal who killed Serb children just because they are of a different ethnicity, then that is an act that deserves every condemnation, a deeply anti-civilised and anti-European decision [coming] from the other side of common sense," the Serbian president said.
He said that the decision, coming at the same tme as Mesic's visit to Kosovo, "is another in a series [of moves] that is in a very efficient manner spoiling relations with Serbia, leaving a serious and unnecessary burden to his successor".
Mesic is currently visiting Kosovo, where Kosovo's authorities are expected to declare him honorary citizen of Pristina, after Croatia recognised Kosovo's independence and argued in favour of it during recent International Court of Justice hearings.
The outgoing president's decision to pardon Rimac by reducing his sentence is one of 14. One of those is also likely to provoke outrage in Croatia, as he reduced by one year the 14-year-sentence of a Serb who had run a prison camp in Bosnia were Croat soliders were tortured. The decision to pardon the convicts followed the recommendation of a commission.
Rimac was sentenced to eight years behind bars when Croatia's Supreme Court ruled that he took part in the killings of the Serbian civillians. He is better known to public as the murderer of 12-year-old Aleksandra Zec and her parents – a family of Zagreb Serbs.
In 2004, the Croatian government gave the two surviving children from Zec family financial assistance of 200,000 euros to cover their cost of living since they had lost their parents as minors. President Mesic then said that the Croatian state was obliged to help the members of Zec family, "because of the terrible crime" committed, and because the judiciary had not adequately dealt with the case.
Rimac allegedly took part in those murders as a member of a group commanded by Tomislav Mercep, who was an adviser to the Croatian interior minister at the time.