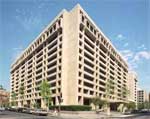 Team of IMF's experts will arrive on Tuesday in Greece, following the visits by European Commission and the European central bank, Greek media said.
The experts will discuss with Greek officials and try to solve the issues regarding retirement, taxes and financial handling.
IMF points out that the visit is in the frameworks of IMF's regular visits.
In the past year Greece faced with great foreign debt and enormous budget deficit.