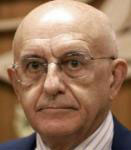 Antonio Cassese, the first president of the ICTY, in an interview for International Justice Tribune, said it would have been better from the outset to appoint a legal counsel for Karadzic.
"In many European countries, in criminal cases any defendant must be assisted by a defence counsel. This is a huge, extremely complex case where [Karadzic] is accused of tremendous crimes – genocide, war crimes, crimes against humanity. The Court would have been able to allow Karadzic to step in any time he wanted to take the floor on his own behalf but also be assisted by the defence counsel," said Cassese for IJT, who is now head of the Special Tribunal for Lebanon, STL.
Radovan Karadzic's trial should start on 1 March, 2010. In November 2009, after Karadzic refused to show up for his trial, acting on a warrant issued by the Trial Chamber, the Office of the Registrar of the ICTY appointed Richard Harvey as his Defence attorney.
Karadzic appealed twice against this decision arguing, among other things, that he did not have an opportunity to choose an attorney and that Harvey is currently representing, in an appellate procedure, Lahij Brahimaj, a former member of the Kosovo Liberation Army, who was sentenced to six years in prison for crimes committed against Serb civilians.
The Trial Chamber dismissed Karadzic's arguments.
Karadzic, former President of Republika Srpska and Supreme Commander of its armed forces, is charged with genocide committed in Srebrenica and ten other municipalities in Bosnia and Herzegovina, crimes against humanity and violations of the laws and customs of war during the course of the 1992-95 war.
The former ICTY president talked about the international justice system, saying that the existence of international criminal tribunals "shows that the international community is given the right to respond to so many crimes committed in the world".
"Namely a response that is not based on revenge, on simply execution or punishment, but on a proper trial," he said. He said these developments in international law represent the emergence of a core of fundamental values with universal scope.
"Also I think that in a way we should not underestimate the positive effect of what is now regarded by so many people as a negative development, namely the globalisation of the international community. Probably sooner or later sharing global interests will push states to set up true international institutions that are there only to protect collective values and this would be a very healthy development," he said.