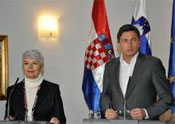 Croatia and Slovenia are ready to resolve outstanding issues blocking Zagreb's EU membership talks, the prime ministers of the two countries Jadranka Kosor and Borut Pahor respectively said after meeting on Wednesday.
"It is my wish that we resolve at least two of the three open issues prior to the next EU-Croatia accession conference" on 19 February, Pahor said after the meeting held at Slovenian ski resort Kranjska Gora.
Pahor did not specify which issues he was referring to, but during the last EU accession conference with Croatia in December, Slovenia was blocking the opening of further negotiations on fisheries, environment and foreign and defense policy.
"I believe that we can take important steps by the next conference," Kosor said.
Croatia has so far closed 17 and opened 10 out of 35 negotiating chapters in its bid to join the EU.
For almost an entire year, Ljubljana blocked Zagreb's accession talks over a maritime border dispute. However, the deadlock was broken in November last year when Pahor and Kosor agreed to allow for arbitration of the matter.
Slovenia is the only republic of the former Yugoslavia currently in the EU, while Croatia is hoping to become the 28th member of the bloc by 2012.
The two prime minister also said on Wednesday that they agreed to create an inter-governmental commission to review and resolve other open issues between the two countries.