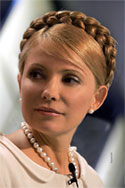 Ukrainian Prime Minister Yulia Tymoshenko, a front runner in a presidential election on Sunday, said on Thursday she wanted to take the former Soviet republic into the European Union within five years.
President Viktor Yushchenko had made membership of the EU and the NATO military alliance the cornerstone of his foreign policy, after he was swept to power by the 2004 "Orange Revolution".
But ties with Russia deteriorated under him and the EU itself has become frustrated by constant political turmoil that has plagued Ukraine in the past five years.
"We are building a Europe in Ukraine and this means a deep and systematic transformation," Tymoshenko told a news conference.
"I will do everything so that during the five years when I will be president, Ukraine becomes a member of the EU."
Former Prime Minister Viktor Yanukovich, a Moscow-backed candidate in the 2004 presidential poll, is expected to come out in front on Sunday and face Tymoshenko in a second round of voting on Feb. 7, polls published at the end of December showed.
The nation of 46 million on the doorstep of the EU is negotiating a new Association Agreement with the 27-member bloc and is part of its Eastern Partnership programme — both aimed at closer political ties and economic co-operation.