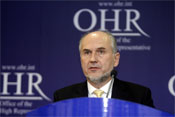 Due to a lack of political agreement there haven't been any reforms Bosnia in the past three years, High International Representative Valentin Inzko says.
Those reforms, the Austrian diplomat added, could have made Bosnia-Herzegovina a more functional state.
At the meeting of the EU political directors in Madrid, Inzko said that making further progress regarding the EU and NATO membership applications would be an additional and important stabilization factor for Bosnia.
But that progress depends on whether the "political management in Bosnia accepts a positive and practical approach," Republic of Srpska (RS) SRNA news agency reported Inzko as saying.
According to the high representative, some positive steps have been made too, such as the fast and efficient actions to meet the requirements for the visa-free regime.
Inzko attended the meeting dedicated to supporting renewed efforts of the EU and the international community to remove the political delays in Bosnia-Herzegovina and get the country back on track toward full integration in the Euro-Atlantic institutions.