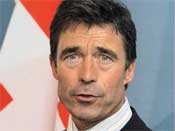 Macedonian PM Gruevski will discuss on Macedonia's achievements and perspectives regarding NATO membership as well as present and future reforms of the country in the frameworks of EU integration.
PM Gruevski announced that he is not expecting too much of his meeting with Rasmussen, but pointed out that it is of great importance Mr. Rasmussen to understand better Macedonia's name dispute with Greece.
"I hope we will have the chance to discuss the name issue, state our and Greece's position regarding the name issue and the problems we face as a country", Gruevski added.
He noted that he will give his best to say how much Macedonia is ready to put behind the name dispute with Greece and join NATO. Besides Greece's blockages, Gruevski added that Macedonia will continue sending its soldiers in alliance mission.