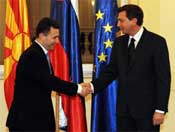 Slovenia stands ready to help Macedonia in finding a compromise with Greece over its name that would unblock its EU and NATO membership bids, Slovenian Prime Minister said on Sunday.
During his visit to Skopje, Pahor and his host, Macedonia's Prime Minister Nikola Gruevski, confirmed good relations between both countries.
"Slovenia is ready to help in any way if Macedonia believes that it is possible. We are and wish to remain friends of Greece too," Pahor, whose country is part of the EU, said.
He noted that once the spat with Greece is overcome, Macedonia's accession to NATO and EU will be favourable not only for the country, but also for the region, the Alliance and the Union.
Gruevski reiterated that his country is doing everything in its power to solve the row with EU and NATO member Greece, that has become his country's main obstacle to joining of organisations.
Athens and Skopje are locked in an 18-year-long spat over the use of the term Macedonia. Athens insists that Skopje's official name, Republic of Macedonia implies territorial claims toward its own northern province, also called Macedonia.
In December Greece blocked Skopje from getting a start date for EU accession talks, citing the unresolved row. In 2008 Greece made a similar blockade in NATO.
The UN sponsored bilateral name talks have so far failed to produce a solution. A new round of the Athens-Skopje negotiations is expected soon.