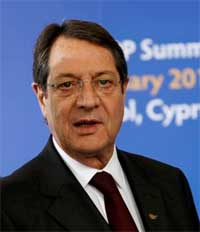 Newly-elected Cyprus President Nicos Anastasiades was sworn in on Thursday for a five-year term and immediately issued a warning to prospective international lenders that forcing depositors in Cypriot banks to take losses was out of the question.
Anastasiades was given a strong presidential mandate in a runoff vote on Sunday on a vow to quickly continue stalled discussions with the European Union and the International Monetary Fund on a bailout deal.
After giving a solemn declaration to keep the constitution and the territorial integrity and independence of the country, Anastasiades told a special session of parliament that his top priority was to handle an unprecedented economic crisis which forced the outgoing government to seek a bailout.