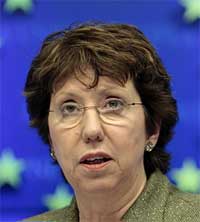 EU foreign affairs head Catherine Ashton will meet Serbian and Kosovo leaders next week for further talks on normalising relations between the two sides. Ashton will first meet Serb President Tomislav Nikolic, Prime Minister Ivica Dacic and the deputy premier in Brussels on Monday, a statement said Friday.
On Thursday, Ashton will meet Kosovo Premier Hashim Thaci and other senior officials in Pristina, it said. Ashton has been holding a series of meetings with the two prime ministers in an effort to defuse one of the last flashpoints in Europe.
The statement said Dacic and Thaci will meet Ashton as previously agreed in Brussels on March 20. The EU cited "good progress" at the last round of talks on Monday in Brussels between Ashton and the two premiers.
Premier Dacic conceded Thursday that Belgrade had no authority over Kosovo but it could not accept a deal with Pristina unless the 40,000-strong Serb community there was given executive powers.