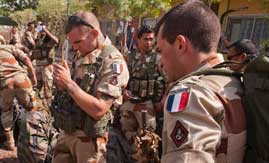 French Defense Minister Jean-Yves Le Drian on Friday said that the French troops in Mali "completed an important part of their work".
Speaking to Europe-1 radio station, Le Drian underlined that "French troops fought against the rebels in a close combat".
"An important part of the work has been completed. We can not yet say the operation is over fully. We would like to facilitate the security of the Gao region by taking control of two positions currently under the hands of the rebels in the mountainous region," Le Drian said.
"Conditions in the north of Mali are very tough. French troops serve with courage and seriousness," Le Drian stated.
The French military operation in Mali began on January 11. To date, France lost four troops in Mali since the operation began.
There are around 4,000 French troops serving in Mali.