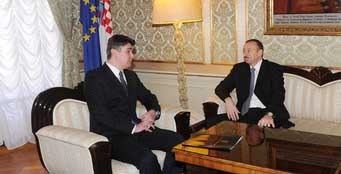 President of Azerbaijan Ilham Aliyev has met Prime Minister of Croatia Zoran Milanovic as part of his visit to Zagreb, Azertag reported.
They praised the economic relations between Azerbaijan and Croatia. They stressed the importance of the visit by the Azerbaijani President, saying it opens new opportunities for further cooperation.
The Azerbaijani President and the Croatian Premier noted there were ample prospects for energy cooperation. They stressed the importance of joint projects in a variety of fields, including non-energy sector, transport, tourism and mutual investment.