Westerwelle said that if tangible results are achieved in the implementation of the Belgrade-Pristina deal, he could send a positive signal to his country's parliament as it deliberates over whether to recommend granting a start date for EU accession talks with Serbia.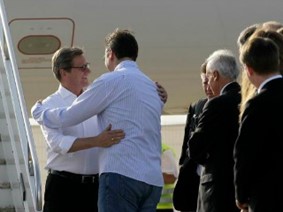 "Serbia can do good for Europe, and Europe for Serbia, and it is for that reason right and important that in these historic hours, the right decisions are made," he said after meeting top Serbian officials on Monday.

The implementation of the deal is the main precondition for Serbia to be granted a start date for the EU talks.


Kosovo and Serbia adopted the 15-point draft agreement on normalising relations on April 19, allowing both sides to advance their EU integration plans.

Westerwelle's visit comes prior to the Bundestag's decision on whether Germany will be in favour of granting Serbia a start date for EU accession talks.

"My visit is supposed to be a gesture of encouragement for Serbia," he said.
The minister however said he could not anticipate the decisions of the Bundestag or the European Council, but he said he would support the Serbian bid both in Germany and in Europe if "concrete steps are now taken towards implementation".

"Across all parties in the Bundestag, there is a very positive attitude towards Serbia's EU accession," he added.

Serbian Prime Minister Ivica Dacic said that Serbian officials were aware that implementation of the agreement is crucial.

"We will do our best at the talks with [EU foreign policy chief] Catherine Ashton and expect the Kosovo side to do so as well and not demand any amendments to what has already been agreed upon," he said.

Dacic and his Kosovo counterpart Hashim Thaci will meet on Tuesday at Ashton's office in order to work out how to implement an action plan from the agreement.

Serbia was granted EU candidate status in March 2012. On April 21 this year, the European Commission recommended that "negotiations for accession to the European Union should be opened with Serbia".