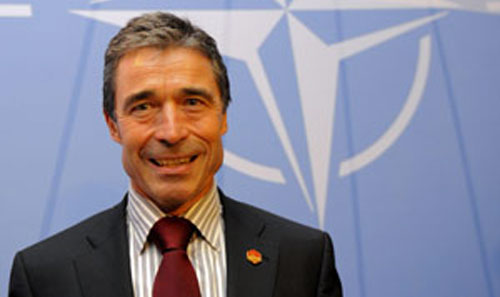 NATO chief Fogh Rasmussen gave assurances to President Tomislav Nikolić on Thursday that Kosovo security forces would not grow into an army.
"Serbia is a key factor of peace and stability in the region," Rasmussen said during talks with Nikolić on the sidelines of the session of the United Nations General Assembly, Tanjug said learned from sources in the Serbian delegation.
President Nikolić said that greater trust had been built between Serbs and KFOR troops in Kosovo and Metohija. 
"Much has changed. Today, there is greater trust between Serbs and members of KFOR," Nikolić underscored.
He condemned the recent killing of a EULEX staff member and asked Rasmussen to call on EULEX to solve the murder and find perpetrators as soon as possible.
Nikolić said that Serbia would implement what had been agreed in Brussels, adding that as far as Belgrade is concerned, there will be no setbacks.
The Serbian president said that the Brussels agreement is aimed at putting life in Kosovo-Metohija in order, and presented problems concerning the organization of the forthcoming local elections.
Rasmussen welcomed Nikolić's commitment to the political process.
He praised Belgrade's constructive approach, noting that it contributed to peace and stability in the region.