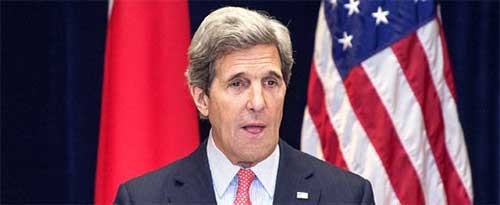 Secretary of State John Kerry arrived in the United Arab Emirates Sunday to brief the US ally on talks with Iran on its nuclear programme and efforts to hold Syria peace talks.
He flew in from Geneva where three days of marathon talks which stretched into early Sunday failed to produce an interim deal under which Iran would suspend parts of its enrichment programme in return for sanctions relief.
Despite leaving without an agreement after his surprise decision to re-route his 10-day Middle East tour via the Swiss city, the top US diplomat insisted western powers were "closer now" to ending the decade-long standoff with Tehran.
He dismissed the idea that a row with French Foreign Minister Laurent Fabius had derailed the talks at the last minute, while also rejecting criticism Washington was abandoning key allies.
"A number of nations — not just the French, but ourselves and others — wanted to make sure that we had the tough language necessary" to ensure the six powers did not do "something sloppily that could wind up with a mistake," he told NBC's "Meet the Press".
Reiterating the P5+1 group, comprising Britain, China, France, Germany, Russia and the United States, was "not in a rush," Kerry said the aim was "to lock the programme in where it is today — in fact, set it back — while one negotiates the full deal."