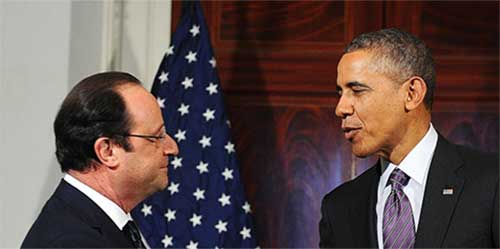 US President Barack Obama met Tuesday at the White House with French President Francois Hollande during which they discussed several regional issues, including Syria and Iran.
During a joint press conference, Obama praised France for its "determination to meet its responsibilities as a global leader," saying "from Mali and the Central African Republic to Syria and Iran, you've shown courage and resolve, and I want to thank you for your leadership and for being such a strong partner to the United States." He added "we're standing shoulder to shoulder on the key challenges to global security. Our unity with our P-5 plus one partners, backed with strong sanctions, has succeeded in halting and rolling back key parts of the Iranian nuclear program.
"President Hollande and I agree on the need to continue enforcing existing sanctions even as we believe that new sanctions during these negotiations would endanger the possibility of a diplomatic solution. And we remain absolutely united on our ultimate goal, which is preventing Iran from obtaining a nuclear weapon," he affirmed.