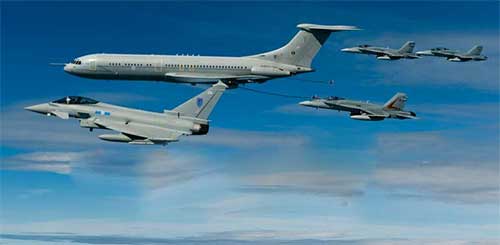 British Royal Air Force fighter scrambled to intercept the Russian bomber that approached the air space of Romania over the Black Sea. The RAF's press service reported that on Tuesday evening.
'Operating from the Romanian Mihail Kogalniceanu Air Base near Constanta on the Black Sea coast, the RAF Typhoon responded to Russian Federation Air Force Tu-22 Backfire strategic bombers
heading south near NATO air space. The Russian military jets were flying over the western Black Sea and were monitored by the Typhoon in accordance with the NATO Enhanced Air Policing (eAP) mission the RAF are conducting in Romania. The Tupolevs were tracked as they departed south but the jets did not come within visual range of each other', the message says.
NATO fighters are currently stationed in Romania as the Alliance international drills are underway.