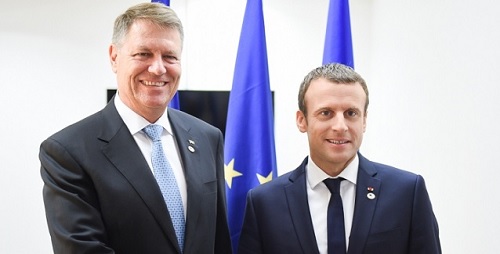 French President Emmanuel Macron is starting his first official visits to Central and Eastern Europe, heading on Thursday and Friday to the Romanian capital, Bucharest, and to Varna, on Bulgaria's Black Sea coast.
In Romania, on Thursday, Macron will meet President Klaus Iohannis, who he also met on the sides of the EU summit, and the Social Democrat Prime Minister, Mihai Tudose.
Romania is eager to discuss trade and investment, as well as its strategic partnership with the West at a sensitive time.
In 2016, Macron's predecessor, Francois Hollande, opened a 52-million-euro Airbus plant at IAR Ghimbav, in central Romania.
This year, with relations now closer between Romania and the United States and with ongoing negotiations between Bucharest and Bell Helicopters, the French face tough competition.
Romania has offered the same IAR Ghimbav platform to produce US Bell Viper attack helicopters.
The French company hinted last year that it will withdraw its investment if Romania's government strikes a deal with Bell.
After Bucharest, Macron will stop over in Varna, on Bulgaria's Black Sea, and meet President Rumen Radev on Friday.