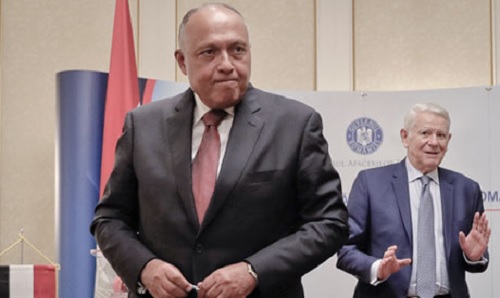 Sameh Shoukry met with his Romanian counterpart Teodor Meleșcanu in Bucharest on Tuesday for wide-ranging talks, marking the final stage of the Egyptian minister's European tour.
Egypt's Minister of Foreign Affairs Sameh Shoukry met with his Romanian counterpart Teodor Meleșcanu in the Romanian capital Bucharest on Tuesday, signing three memorandums of understanding between the two nations, ministry spokesman Ahmed Abu Zeid said in a statement.
Among the agreements is a mutual exemption from entry-visa requirements for diplomatic and important missions. Another agreement established a mechanism of political consultation between the two countries, while the third established cooperation protocol between the ministries of tourism.
Shoukry is also set to deliver a letter from President Abdel-Fattah El-Sisi to Romania's President Klaus Iohannis.
Shoukry and Meleșcanu engaged in wide-ranging discussions on Tuesday, said Abu Zeid.
Among the topics considered was means of boosting bilateral cooperation, especially regarding joint projects and programs within the framework of Egyptian-Romanian Committee for Economic, Scientific and Technical Cooperation.
The fields cooperative activity include small- and medium-size enterprises, agriculture and water resources.
Shoukry and Meleșcanu also discussed the situation in the Middle East, with Shoukry explaining Egypt's views on Libya, Syria, Yemen and Iraq, as well as the Israel-Palestine peace process.
Discussion also covered Egyptian efforts on the issues of counter-terrorism and illegal migration into European Union.
Meleșcanu stressed on the significance of his country's relations with Egypt, which represents a priority for Romania.