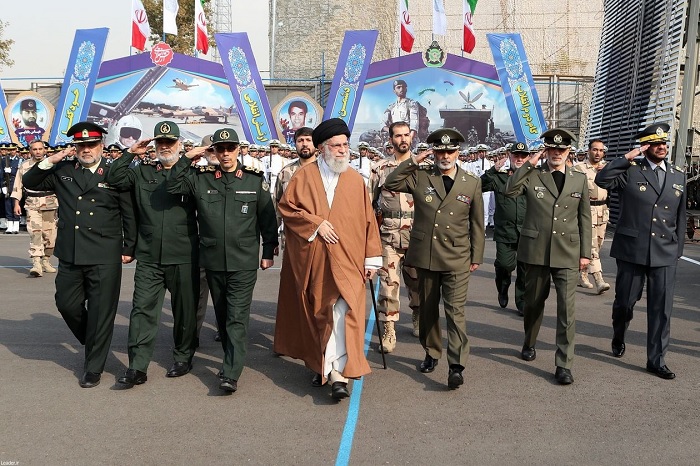 Saudi Arabia, Qatar and four other Gulf nations joined the U.S. in imposing sanctions on a financing network controlled by Iran's military and several men linked to the Tehran-backed Lebanese group Hezbollah.
Top U.S. Treasury Department officials said the action is the largest ever by the Riyadh-based Terrorist Financing Targeting Center, whose membership also includes the United Arab Emirates, Oman, Bahrain and Kuwait.
The action is viewed by U.S. officials as a strategically important regional collaboration in the Trump administration's "maximum pressure" campaign effort against Iran, as well as a milestone in regional governments cracking down on local terror networks.
The move is likely to also reassure Israel after President Trump's decision to pull U.S. troops out of northern Syria rattled the close U.S. ally over concerns that the pullback was a gain for Iran.
"The TFTC's coordinated disruption of the financial networks used by the Iranian regime to fund terrorism is a powerful demonstration of Gulf unity," said Treasury Secretary Steven Mnuchin, on the second leg of a Middle East tour focused on terror finance and Iran sanctions.
The Trump administration has sent the Iranian economy into a nosedive as it tries to strong-arm Supreme Leader Ali Khomeini into signing a new nuclear and security deal through a steadily escalating campaign of sanctions. Still, analysts say, financing and banned trade continues to flow through the region, keeping the regime financially and politically afloat.
Iran has retaliated by hitting oil supplies critical to the global economy in Saudi Arabia and the adjacent Strait of Hormuz.
Mr. Mnuchin said Monday in Israel that more sanctions against Iran were coming, citing new intelligence provided by its ally. Prime Minister Benjamin Netanyahu, standing next to the secretary, said his government had evidence that Iran was seeking to develop precision-guided missiles to deploy as close as Lebanon and as far away as Yemen.
Specifically on Wednesday, the six Gulf nations blacklisted a multibillion-dollar network of Iranian companies, banks and funds sanctioned by the U.S. last year for allegedly financing the clerical regime's paramilitary unit called the Basij. Human rights groups say the unit enforces political oppression through beatings and training child soldiers sent to fight as Iranian proxies in regional conflicts.
Basij troops are largely directed by the regime through Iran's elite military unit and the Islamic Revolutionary Guard Corps, a U.S.-designated terror group.
"The Gulf is calling the Iranians out on this," Marshall Billingslea, the Treasury's assistant secretary for terrorist financing, said amid meetings with Saudi officials Thursday.
The Gulf countries also targeted four men linked to Hezbollah, which the U.S. and many Iran-watchers say is a key tool of Tehran's foreign policy abroad, funded and directed by the regime. The U.S. says the four lead the group's operational, intelligence and financial activities in Iraq.
Mr. Billingslea said the action by the TFTC member states "is crucial because some of these targets have tendrils that extend into the Gulf."
One of the groups targeted by the TFTC is Bank Mellat, an institution accused by the U.S. of having annually provided hundreds of millions of dollars' worth of dividends, interest-free loans and other financial support to the Basij through its business ties to companies owned by the unit. The TFTC designation will require member states to shut the bank's local offices.
Iran's mission to the United Nations didn't immediately respond to a request for comment.
Saudi Arabia's participation in Wednesday's action is unsurprising given that its chief foe is Iran and its proxies. But other members of the Gulf antiterror group, most notably Qatar, have close political, social and financial ties to Tehran, spurring a measure of skepticism among some U.S. terror analysts who questioned whether the group could deliver in practice what it promised on paper.
Senior U.S. Treasury officials said, however, that they have seen each of the countries take decisive action to dismantle terror financing networks in their countries, including currency-exchange houses and shell companies used by the Iranians to hide sanctioned transactions.
"All the countries have made a leadership-level commitment to combat terrorist financing," Mr. Mnuchin said in an interview. "Whenever we've seen something going on and we have approached them, they have given us their full commitment to address it."
Other signs of collaboration, U.S. officials say, include Qatar now maintaining representatives at the Riyadh-based TFTC facilities, member states enacting new laws to enforce the sanctions and progress in implementing anti-money-laundering regulations in line with recommendations made by the global watchdog group Financial Action Task Force.
Doha has also hired former Western sanctions officials to help ensure it is implementing new terror-finance and money-laundering regulations in line with global standards.
Still, doubts persist, fueled as influential elements within many of the countries pushed back against efforts taken by their governments, local law enforcement and prosecutors.
A top al Qaeda financier recently won a lower-level court case in Qatar that threatens to undermine the safeguards put in place to keep him from funding further attacks. In the U.A.E., the emirate of Abu Dhabi is viewed by U.S. officials and analysts as a much better enforcer than Dubai, an emirate that has a large Iranian population and through which hard-to-track bulk cash transits from all corners of the globe.
But it is in those areas that Western allies still see significant security vulnerabilities that Mr. Mnuchin plans to press top government officials to address this week.