Thwarted by minefields, Ukrainian forces won't reach the southeastern city of Melitopol, a vital Russian transit hub, according to a U.S. intelligence assessment
The U.S. intelligence community assesses that Ukraine's counteroffensive will fail to reach the key southeastern city of Melitopol, people familiar with the classified forecast told The Washington Post, a finding that, should it prove correct, would mean Kyiv won't fulfill its principal objective of severing Russia's land bridge to Crimea in this year's push.
The grim assessment is based on Russia's brutal proficiency in defending occupied territory through a phalanx of minefields and trenches, and is likely to prompt finger pointing inside Kyiv and Western capitals about why a counteroffensive that saw tens of billions of dollars of Western weapons and military equipment fell short of its goals.
Ukraine's forces, which are pushing toward Melitopol from the town of Robotyne more than 50 miles away, will remain several miles outside of the city, U.S. officials said. U.S., Western and Ukrainian government officials interviewed for this report spoke on the condition of anonymity to discuss sensitive military operations.
The Office of the Director of National Intelligence declined to comment.
Melitopol is critical to Ukraine's counteroffensive because it is considered the gateway to Crimea. The city is at the intersection of two important highways and a railroad line that allow Russia to move military personnel and equipment from the peninsula to other occupied territories in southern Ukraine.
Ukraine's sputtering counteroffensive
U.S. officials foresee that Ukraine's push to retake Russian-occupied territory will stall before reaching the key southeastern city of Melitopol. Ukrainian forces are currently pushing south around the village of Robotyne.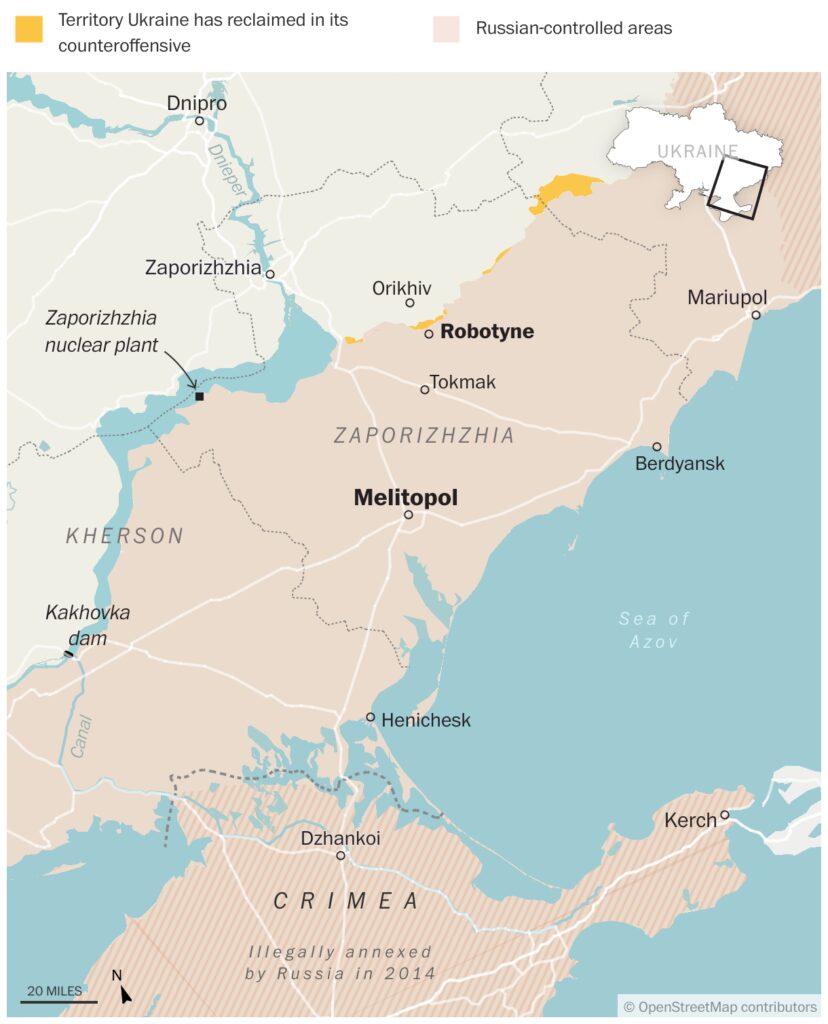 Ukraine launched the counteroffensive in early June hoping to replicate its stunning success in last fall's push through the Kharkiv region.
But in the first week of fighting, Ukraine incurred major casualties against Russia's well-prepared defenses despite having a range of newly acquired Western equipment, including U.S. Bradley Fighting Vehicles, German-made Leopard 2 tanks and specialized mine-clearing vehicles.
Joint war games conducted by the U.S., British and Ukrainian militaries anticipated such losses but envisioned Kyiv accepting the casualties as the cost of piercing through Russia's main defensive line, said U.S. and Western officials.
But Ukraine chose to stem the losses on the battlefield and switch to a tactic of relying on smaller units to push forward across different areas of the front. That resulted in Ukraine making incremental gains in different pockets over the summer.
Kyiv has recently dedicated more reserves to the front, including Stryker and Challenger units, but has yet to break through Russia's main defensive line.
The path to Melitopol is an extremely challenging one, and even recapturing closer cities such as Tokmak will be difficult, said Rob Lee, a military analyst with the Foreign Policy Research Institute.
"Russia has three main defensive lines there and then fortified cities after that," he said. "It's not just a question about whether Ukraine can breach one or two of them, but can they breach all three and have enough forces available after taking attrition to achieve something more significant like taking Tokmak or something beyond that."
The bleak outlook, briefed to some Republicans and Democrats on Capitol Hill, has already prompted a blame game inside closed-door meetings. Some Republicans are now balking at President Biden's request for an additional $20.6 billion in Ukraine aid given the offensive's modest results. Other Republicans and, to a lesser extent, hawkish Democrats have faulted the administration for not sending more powerful weapons to Ukraine sooner.
U.S. officials reject criticisms that F-16 fighter jets or longer-range missile systems such as ATACMS would have resulted in a different outcome. "The problem remains piercing Russia's main defensive line, and there's no evidence these systems would've been a panacea," a senior administration official said.
In an interview this week, Gen. Mark A. Milley, chairman of the Joint Chiefs of Staff, said the United States has been clear about the difficult task facing Ukraine.
"I had said a couple of months ago that this offensive was going to be long, it's going to be bloody it's going to be slow," he told The Post. "And that's exactly what it is: long, bloody and slow, and it's a very, very difficult fight."
While not achieving its objectives, he noted Kyiv's success in degrading Russian forces. "The Russians are in pretty rough shape," he said. "They've suffered a huge amount of casualties. Their morale is not great."
U.S. officials said the Pentagon recommended multiple times that Ukraine concentrate a large mass of forces on a single breakthrough point. Though Ukraine opted for a different strategy, officials said it was Kyiv's call to make given the profound sacrifice Ukrainian troops were making on the battlefield.
Ukrainian Foreign Minister Dmytro Kuleba on Thursday acknowledged the slow pace of Ukraine's counteroffensive but said Kyiv would not stop fighting until all its land is retaken. "We don't care how long it takes," he told the news agency Agence France-Presse.
He encouraged critics of the offensive to "go and join the foreign legion" if they wanted faster results. "It's easy to say that you want everything to be faster when you are not there," he said.
Ukrainian officials have said privately that timing depends on how quickly forces can penetrate the minefields — a difficult process that has strained the military's mine-clearing resources across a wide swath of territory.
Analysts say the challenges Ukraine has faced are multifaceted, but nearly all agree that Russia surpassed expectations when it comes to its proficiency in defending occupied territory.
"The most deterministic factor of how this offensive has gone thus far is the quality of Russian defenses," said Lee, noting Russia's use of trenches, mines and aviation. "They had a lot of time and they prepared them very well … and made it very difficult for Ukraine to advance."
Questions have also been raised about how Ukraine committed its forces and in which areas.
The Ukrainians have for months poured tremendous resources into Bakhmut, including soldiers, ammunition and time, but they have lost control of the city and have made only modest gains in capturing territory around it. And while the close-in, trench-line fighting is different in Bakhmut from the problem of mines in the south, the focus has left some in the Biden administration concerned that overcommitting in the east may have eroded the potency of the counteroffensive in the south.
The new intelligence assessment aligns with a secret U.S. forecast from February indicating that shortfalls in equipment and force strength may mean that the counteroffensive will fall "well short" of Ukraine's goal to sever the land bridge to Crimea by August. The assessment, detailed in a classified document leaked onto the social media app Discord, identified Melitopol or Mariupol as the objectives "to deny Russian overland access to Crimea."
U.S. officials said Washington was still open to Kyiv surprising skeptics and overcoming the odds. One defense official said it is possible that Ukraine could buck historical norms and continue the counteroffensive through the winter, when everything including keeping soldiers warm and stocked with food and ammunition becomes much more difficult.
But that would rely on several important factors, such as the amount of rest troops need after a hard fighting season. It would also depend on how much specialized equipment and cold-weather clothing they have on hand, the defense official said. But Moscow may also outperform during winter military operations.
"Russians are known to be capable of fighting in cold weather," the official said.