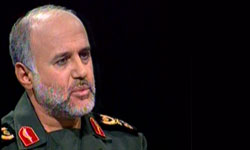 TEHRAN (FNA)- The Bush administration has created the required infrastructure for attacking Iran and delivered his war plan to Obama, a senior Iranian military official said Saturday, adding that Obama's election has provided Iran with a one-year opportunity to increase preparedness.
Addressing a meeting to mark the start of the Week of Basij (mobilization of volunteer forces), lieutenant commander of the General Staff of Iran's Armed Forces Major General Gholam-Ali Rasheed said that US President George Bush has established the infrastructures required in the region for posing a threat to Iran.
"The United States' threats have now found a structural form. They have done the planning for reaching the necessary preparedness to wage a war (against Iran) through setting up military bases, holding (security) pacts, etc.," he said.
The General viewed "northwestern and southeastern Iran as well as the southwestern province of Khuzestan as vulnerable points" the US forces are likely to use if they want to invade Iran, and underlined that the aforementioned areas should become invulnerable within the next one year.
He further urged military officials to leave war rhetoric and expression of foreign policy views to politicians and "accelerate measures to boost Iran's deterrent power".
Considering that the country is now under threat, he said, we should consider measures to prevent entering the stage of actual war.
US forces attacked a Syrian village near the borders with Iraq on October 26, and the raid on Sukkariyah, which took place almost simultaneously with an air raid on a Pakistani village, has raised speculation about the likelihood of similar unilateral strikes by the US troops on other regional states, including the Islamic Republic.
Speculation that Israel could also bomb Iran mounted after a big Israeli air drill in June. In the first week of June, 100 Israeli F-16 and F-15 fighters reportedly took part in an exercise over the eastern Mediterranean and Greece, which was interpreted as a dress rehearsal for a possible attack on Iran's nuclear installations.
Israel and its close ally the United States accuse Iran of seeking a nuclear weapon, while they have never presented any corroborative document to substantiate their allegations. Both Washington and Tel Aviv possess advanced weapons of mass destruction, including nuclear warheads.
Iran vehemently denies the charges, insisting that its nuclear program is for peaceful purposes only. Tehran stresses that the country has always pursued a civilian path to provide power to the growing number of Iranian population, whose fossil fuel would eventually run dry.
Iran has, in return, warned that it would target Israel and its worldwide interests in case it comes under attack by the Tel Aviv.
The United States has also always stressed that military action is a main option for the White House to deter Iran's progress in the field of nuclear technology.
Iran has warned that in case of an attack by either the US or Israel, it will target 32 American bases in the Middle East and close the strategic Strait of Hormoz.
An estimated 40 percent of the world's oil supply passes through the waterway.
In a Sep. 11 report, the Washington Institute for the Near East Policy says that in the two decades since the Iran-Iraq War, the Islamic Republic has excelled in naval capabilities and is able to wage unique asymmetric warfare against larger naval forces.
According to the report, the Islamic Revolutionary Guards Corps Navy (IRGCN) has been transformed into a highly motivated, well-equipped, and well-financed force and is effectively in control of the world's oil lifeline, the Strait of Hormuz.
The study says that if Washington takes military action against the Islamic Republic, the scale of Iran's response would likely be proportional to the scale of the damage inflicted on Iranian assets.
Meantime, a recent study by the Institute for Science and International Security (ISIS), a prestigious American think tank, has found that a military strike on Iran's nuclear facilities "is unlikely" to delay the country's program.
Intensified threats by Tel Aviv and Washington of military action against Iran contradict a recent report by 16 US intelligence bodies which endorsed the civilian nature of Iran's nuclear plans and activities.
Following the US National Intelligence Estimate (NIE) and similar reports by the IAEA head – one in November and the other one in February – which praised Iran's truthfulness about key aspects of its past nuclear activities and announced settlement of outstanding issues with Tehran, any effort to impose further sanctions or launch military attack on Iran seems to be completely irrational.
The February report by the UN nuclear watchdog, the International Atomic Energy Agency, praised Iran's cooperation in clearing up all of the past questions over its nuclear program, vindicating Iran's nuclear program and leaving no justification for any new UN sanctions.
The UN nuclear watchdog has also carried out at least 14 surprise inspections of Iran's nuclear sites so far, but found nothing to support West's allegations.
Also in another report to the 35-nation Board of Governors, IAEA Director General Mohamed ElBaradei confirmed "the non-diversion" of nuclear material in Iran and added that the agency had found no "components of a nuclear weapon" or "related nuclear physics studies" in the country.
The IAEA report confirmed that Iran has managed to enrich uranium-235 to a level "less than 5 percent". Such a rate is consistent with the construction of a nuclear power plant. Nuclear arms production, meanwhile, requires an enrichment level of above 90 percent.
The Vienna-based UN nuclear watchdog continues snap inspections of Iranian nuclear sites and has reported that all "declared nuclear material in Iran has been accounted for, and therefore such material is not diverted to prohibited activities."
Mohammed ElBaradei, chief of the International Atomic Energy Agency, recently said that Iran remains far from acquiring capabilities to develop nuclear weapons as it is still lacking the key components to produce an atomic weapon.
"They do not have even the nuclear material, the raw unenriched uranium to develop one nuclear weapon if they decide to do so," said the head of the UN nuclear watchdog agency.
Following the said reports by the US and international bodies, many world states have called the UN Security Council pressure against Tehran unjustified, demanding that Iran's case be normalized and returned from the UNSC to the IAEA.