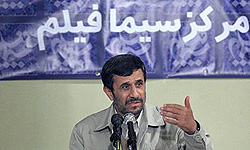 TEHRAN (FNA)- Iranian President Mahmoud Ahmadinejad on Friday attended the film taking scene of a historical TV serial on aftermaths of Karbala event on Ashoura Day, titled "Mokhtar Nameh" in Ahmadabad-e-Mostowfi district of Tehran.
According to political desk reporter, the government spokesman Gholam Hossein Elham and head of the Islamic Republic Broadcasting (IRIB) Zarqami accompanied the president during the visit.
The serial's director and screen playwright Davoud Mirbaqeri offered explanations about the serial to the president and his accompanying officials.
In an address after the visit to the present artists, on behalf of the entire Iranian artists and particularly cinematographers, President Ahmadinejad asked them to present a plan for building a cinematic city, so that the government would allocate the required budget and provide the needed conditions for the plan's execution, the Islamic republic news agency reported.
Each part of the 40-part Mokhtarnameh serial would be presented in 50 minutes and the serial is totally comprised of 700 scenes. 100 of the scenes are war scenes and 110 actors play the main roles in it, while 400 others would act out the side roles.
Mokhtar was an Iranian brave warrior who upraised to take revenge for the shed blood of Imam Hossein (P) and his 72 faithful disciples in Karbala on the eventful, sad Ashoura Day, killing the commanders of the army of pagans one after the other.
President Ahmadinejad also said on the sidelines of his visit that he watches some parts of the presently aired TV serial on Prophet Joseph (P), but is a constant client of the news various version on TV.