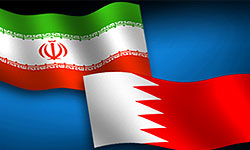 TEHRAN (FNA)- Speaker of Bahraini parliament Khalifa Bin Ahmad al-Dhahrani said Monday that Manama wants Iran-UAE dialogue to promote mutual ties.
Al-Dhahrani told Iran's Ambassador to Bahrain Hossein Amir Abdollahian, "Dialogue is a good principle in nature; we should respect good relations between Muslim and neighboring states, that have age-old ties."
He rejected UAE press claims that he had made some comments during his visit to the UAE on the three Iranian islands.
According to Tehran Times, he also lauded Iran's Parliament Speaker Ali Larijani's initiative to dispatch Asian Parliamentary Assembly troika team to Egypt to consult on proper mechanisms for providing aid to the Gazans.
He hoped that the visit by the team to Egypt will help lift the blockade and end the sufferings of the oppressed Palestinian nation.