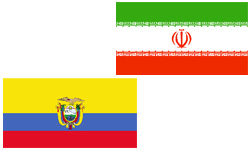 TEHRAN (FNA)- Iranian Deputy Commerce Minister Mehdi Ghazanfari and Ecuadorian Vice Minister of Foreign Trade and Integration Miguel Eduardo Egas Pena called for the expansion of economic ties in a meeting here on Monday.
Expressing satisfaction over Iran-Ecuador political relations, Ghazanfari said, "The ways to develop current economic relations should be examined soon," MNA reported.
Ghazanfari who is also the director of the Trade Promotion Organization of Iran (TPOI) voiced his discontent over the low amount of bilateral trade and advised making use of "existing capacities in service-rendering fields particularly in technical engineering services" to develop ties.
He also noted that Iran welcomes Ecuador's participation in Iran's exhibitions and suggested to sign a memorandum of understanding on cooperation in holding fairs.
Pointing to the long distance between the two states, TPOI director proposed to take decisions in order to facilitate transportation.
Egas Pena said, "The development of economic ties guarantees political ties."
He also recommended setting up a commission to follow the implementation of the signed MOUs.
The MNA reported that they wrapped up the meeting by signing an MOU which includes raising trade volume, shipping cooperation, facilitating banking affairs, exchanging trade delegations, holding conferences, etc.
Expansion of ties with Latin American states comes top on the agenda of Iran's foreign policy.
On September, Iran's Oil Minister Gholam-Hossein Nozari and Ecuadorian Minister of Mines and Petroleum Galo Chiriboga Zambarno signed an MOU on cooperation in the oil sector, IRIB reported on September 14. They also agreed to build an oil refinery in the Latin American country.
The two states have so far signed MOUs in the fields of agricultural and fishery in the current Iranian calendar year (to end on March 20).