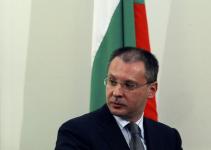 The Bulgarian parliament has approved the government's 2009 budget based on expected economic growth of 4.7 percent, a rate widely criticised as unrealistic amid the global economic slowdown.
The budget plans a surplus of 3 percent of gross domestic product, but also raises social and capital spending which analysts have said is aimed at boosting the government's falling popularity before parliamentary elections next summer.
The leading business association and the right-wing opposition have slammed the budget as unrealistic and have urged the government to cut spending as the global economic downturn and falling commodity prices will hit planned revenues.
But the ruling Socialist-led cabinet has said all growth forecasts were highly hypothetical at times of financial turmoil, pointing at its plans to put on hold 10 percent of ministries' spending to protect public finances.
The International Monetary Fund and economists see economic growth slowing to 2-3 percent next year due to an expected sharp decline in foreign investment and exports as western Europe, Bulgaria's key output destination, has plunged into a recession.
The budget sets revenue at 32.6 billion levs (around € 16 billion), some 20 percent more than the initial plans for 2008. Spending, including a contribution to the European Union budget is set at 30.4 billion levs, up 20 percent on 2008 plans.
The government says it might lower the planned budget surplus next year to 2 percent to support businesses if the economic slowdown strengthens and if weaker demand shrinks the current account gap.
The budget envisages a 21-percent increase in capital spending to make up for the expected slowdown in investment.
It also plans to raise pensions by 20 percent, public wages by 10 percent and put in more funds for education and healthcare.
Economists have said that instead of spending more, the government should focus on economic reforms and prepare adequate measures to implement if Bulgaria plunges into recession.
Fiscal policy is Bulgaria's main tool to steer the economy as it has pegged its lev currency to the euro in a currency straight jacket that significantly curtails monetary operations.