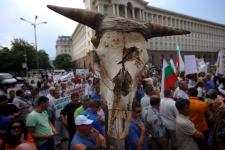 Grain farmers from all over Bulgaria took part in protests amid concern that fraudulent practices by some farmers would cause the EU to cut further aid to Sofia.
Hundreds of farmers took to the roads in tractors and other vehicles in the countryside near the southern town of Stara Zagora, where much of Bulgaria's grain comes from.
The protesters were concerned that fellow farmers are claiming European Union subsidies for mountainous areas of land that they had illegally registered as farm land.
The daily Klasa reported that the European Court of Auditors had recently conducted satellite monitoring of farmland in Bulgaria and found that graveyards, stadiums and garbage depots in Bulgaria's mountainous regions were registered as pastureland.
The European Commission in Brussels has already blocked about € 121 million in SAPARD farming aid to Bulgaria and also cut the country's access to € 220 million in regional development money amid fraud and corruption concerns.
Farmers also took to the roads in the southern city of Plovdiv and the smaller towns of Pleven, Razgrad and Popovo, in the north of the country, national radio reported.
They were protesting against delays in their subsidy payments.
Bulgaria's Farming and Food Minister Valeri Tsvetanov promised that the money would be paid out this week.