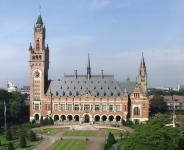 The first official meeting of Macedonian and Greek representatives at the World Court over Skopje's suit against Athens is to be held on January 19, Macedonia's Foreign Ministry says.
The International Court of Justice has already notified both countries' foreign ministries.
The meeting will focus on procedural issues regarding the future course of the process, chaired by court President Rosalyn Higgins, the press release reads.
Macedonia took Greece before the International Court of Justice in November. Skopje argues that Athens violated the United Nations-sponsored 1995 Interim Accord signed by both sides by practically blocking its neighbour from joining NATO in April.
According to the accord, Athens obliged not to block Skopje from entering international organisations as long as it is done under Macedonia's UN provisional reference, the Former Yugoslav Republic of Macedonia, FYROM.
The suit followed after intensified but fruitless UN-sponsored talks on overcoming the "name" row between the two countries which dates back to 1991.
In April, NATO did not extend a membership invitation to Macedonia due to the Greek objection on the country's name. Athens argues that the name Macedonia implies Skopje's territorial claims over its own northern province which is called the same.
Foreign Minister Antonio Milososki is Macedonia's representative, accompanied by Croatian lawyer Budislav Vukas as ad hoc judge.
Athens will be represented by the Greek ambassador to the Netherlands Konstantinos Rallis, ambassador Yiorgos Savvaidis and Foreign Ministry advisor Maria Telalian. Athens University professor Emmanuel Rukunas will be Greece's ad hoc judge.
Local experts have already estimated that the court will need around three years to reach a decision. Meanwhile both countries are committed to staying in the UN talks but since the suit has been filed no activities on this field have been made.
On Wednesday Macedonia's Prime Minister Nikola Gruevski told local media he is not aware if a fresh round of name talks would be held by the end of the year but if scheduled, the new Macedonian negotiator Zoran Jolevski would be "ready for it," he said.