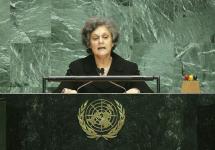 Hungary will enjoy good ties with Romania even though the ethnic Hungarian party, the UDMR, will not be part of Romania's new government, Hungary's Foreign Minister Kinga Goncz says.
"We are determined to maintain good relations with the Romanian government even if it does not have any Hungarian ministers or deputy ministers," Goncz said on the government website.
At the same time, Goncz said it was important that the rights of ethnic Hungarian communities beyond the borders of Hungary be guaranteed not only when their parties are in the government. Legal guarantees and democratic institutional guarantees are needed for this, she added.
Goncz noted that the parliament in Bucharest will still include 22 ethnic Hungarian lawmakers and 9 senators who will represent ethnic minority issues.
Yet for the first time in 12 years, the UDMR will not be part of the ruling coalition as the Social Democrats objected to their presence in government.
Goncz said the representatives of ethnic Hungarians "appear to have been pushed out" of the governments of neighbouring countries.
"It must be noted, however, that the composition of these governments are based on democratic principles, and they are the results of parliamentary elections," she added.
UDMR leader Bela Marko said that although his party will not be in Romania's new government his lawmakers can still support the government's reform plans in parliament and maintain dialogue with the governing and former ally Democratic-Liberal Party.