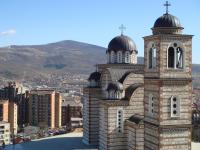 Northern MitrovicaBelgrade had no permission from the UN to allow Serbian trains to enter Kosovo, says a UN mission spokesman after a train reportedly terminated in the town of Zvecan.
"Concerning this issue, Belgrade did not discuss it with the United Nations Mission in Kosovo, I'm sorry to say. We were not informed that this train would be coming to Kosovo," Alexander Ivanko told the BBC.
Ivanko also ensured that agreements have not been put in place to allow this sort of activity, declaring that "there is no arrangement that allows the free entry of Serbia's trains into Kosovo,"
Meanwhile, the Serbian Secretary State for Kosovo, Oliver Ivanovic, said that there is not one piece of legal framework that can prevent the movement of trains from Serbia to the territory of Kosovo.
"I do not think that this breaks any official document, because up until now the train travelled to Leposavic, and now has lengthened its route to Zvecan," he said.
Leposavic is also a municipality in the Serb-dominated northern areas of Kosovo.
Ivanovic added that Serbia does not need to request the permission for the movement of its trains within Kosovo since he considers it "a part of Serbia's territory."
Kosovo's Transport Minister said the entry of the train was a breach of Kosovo's sovereignty and urged the European Union's law-and-order mission, EULEX, to act.
Kosovo declared independence on February 17 of this year, a move which has been pronounced illegal by Serbia.