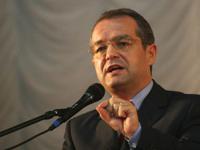 Romania's Democrat-Liberals, PD-L and the leftist Social Democrat Party, PSD, on Wednesday agreed on the distribution of 19 ministries in the future government.
Both parties will have 9 ministries, each, while the future Justice Minister will be an independent, Prime Minister-designate Emil Boc said.
The main ministries are split as follows: Democrat Liberals – Finance, Economy and Defence while the Social Democrats will get Foreign Affairs, Domestic Affairs, Education and Health.
"The government's main objectives are to ensure the country's stability, maintaining and creating new jobs, maintaining and gradually raising purchasing power," said Boc.
The government's first challenge will be to draft a budget plan for next year and convince financial markets' fiscal policy will be restrictive enough to keep deficits and debt in check.