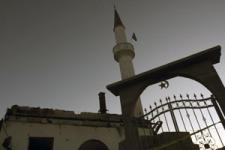 n independent expert has disputed the conclusion of the official investigation, saying the mosque in the village of Fazlagica Kula was not razed by accident but in "professionally planed and executed" arson attack.
"Our suspicions have been confirmed because the findings of this expert are completely different from the findings of the regional prosecutor in Trebinje," Seid Smajkic, mufti in the southern town of Mostar, was quoted as saying by local media on Tuesday.
The new findings showed that the fire was "professionally planed and executed", probably using a flammable liquid, Smajkic added.
The mosque, in the eastern part of the Serb-dominated entity of Republika Srpska, was burnt on the eve of the Muslim holiday of Bayram on December 8.
Many Bosniak (Bosnian Muslim) political and religious leaders viewed the incident as a deliberate attack on Bosniak returnees to the area. Bosnian Serb officials pledged to identify the cause of the fire and any perpetrators as soon as possible.
On December 19, an investigation carried out by the prosecutor's office in Trebinje concluded that the fire was started near the mosque's roof by an electrical fault.
The local Islamic Community disputed these findings and hired an independent expert to investigate the scene. They said they were suspicious of the original findings because of a history of attacks and harassment of Bosniaks in the area of Fazlagica Kula since returned there after the war.
The entire village and the mosque were completely destroyed during the 1992-95 war. Some houses and the mosque were reconstructed in recent years to allow some villagers to return to their homes.
Smajkic added that the new findings would be sent to all relevant local and international institutions in Bosnia. He said that unless the Trebinje court takes proper legal measures following this attack, he would call upon the rest of the Islamic community and other Bosniaks to "revolt."