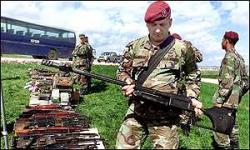 The Czech Republic is considering withdrawing its troops from the NATO-led peacekeeping force in Kosovo, due to opposition objections in Prague over the country's presence in military missions abroad.
The some 400 Czech soldiers serving in Kosovo play a major role in KFOR operations as they operate along the border with Serbia.
"The possible departure of Czech soldiers is a very unsettling possibility," Finnish Brigadier General Kyosti Halonen told reporters at a base near Podujevo, according to Czech news agency ČTK.
Last week the Czech opposition refused to support a government proposal to extend the mandate for foreign missions by another year, because the government did not put the missions up for voting individually, and increased the number of soldiers serving in Afghanistan.
The rejection left the hundreds of troops under the auspices of a rule that says the government is entitled to send troops abroad for a maximum of 60 days. If there is no new resolution approving their deployment in that period, the troops would have to to return to the Czech Republic.
Czech chief of staff Vlastimil Picek said this is "a very serious signal to our foreign colleagues with whom we cooperate in the areas concerned."
Almost 15,000 soldiers from more than 30 countries are currently serving as peacekeepers in Kosovo. The force numbered around 50,000 soldiers when it first deployed in 1999, after NATO expelled Serb troops accused of killing civilians in a two-year war with ethnic Albanian guerrillas.