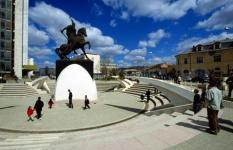 urkey will support Kosovo within the United Nations when it becomes a temporary member of the Security Council in January 2009, a senior Turkish official said.
"From the beginning of 2009, Turkey will be a temporary member of the UN Security Council … and wishes that Kosovo become a member of the UN," said Murat Mercan, chairman of the Turkish parliament's Foreign Affairs Commission, after a meeting with Kosovo Foreign Minister Skender Hyseni in Pristina on Monday.
Kosovo's Albanian majority declared independence from Serbia in February of this year, and has since been recognized by 53 countries, with Turkey as one of the first. Belgrade rejects the secession and has vowed to block Kosovo's entry into the UN and other international political, economic and even sports bodies.
"Ankara will continue to play an important role for the issue of lobbying for Kosovo in the future, especially in the panel of the Islamic Conference," Mercan added, referring to Turkey's stature as a permanent member of the Organisation of the Islamic Conference, an international body bringing together 56 Islamic states.
Most Kosovo Albanians are secular Muslims. The young state is home to a small Turkish-speaking minority, who settled in the area during the Ottoman era.