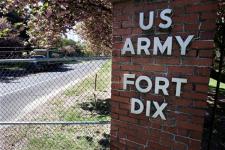 A United States court found the three brothers Dritan, Shain and Elvir Duka, ethnic Albanians born in western Macedonia, guilty of a conspiracy to kill U.S. soldiers at the Fort Dix military base in New Jersey last year, local media said on Tuesday.
A Jordanian-born and a Turkish-born U.S. citizen were also found guitly, Macedonian news agency Makfax reported. All defendants were cleared of the charge of attempted murder.
Federal prosecutors said the five men were planning to attack Fort Dix and the resident military personnel, and had taken concrete steps to train and arm themselves. Although investigators said the conspirators were inspired by Osama bin Laden, the five men were not accused of any ties to Islamic extremist groups.
The men, all immigrants who lived in Philadelphia's New Jersey suburbs, face a maximum of life in prison. Albanians, who make up 25-percent of Macedonia's people, are mostly moderate Muslims.