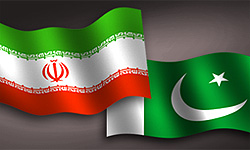 TEHRAN (FNA)- Iran's Sunir company and Pakistan's Planet Energy Pvt Ltd signed a memorandum of understanding for the joint development of a 50MW wind farm in Pakistan.
The MoU was signed by Managing Director of Sunir Co Reza Ebadzadeh and Chairman of the Planet Energy Pvt Ltd Tariq Sayeed and during the visit to Pakistan by a senior Iranian delegation led by Energy Minister Parviz Fattah.
As per the MoU, both companies would jointly invest in developing this wind farm.
This is considered as a significant development in Pakistan's renewable energy sector, especially wind, where a foreign company has shown willingness to invest in Pakistan under present circumstances.
The signing ceremony was also witnessed by Pakistan's Minister of Water and Power Raja Pervaiz Ashraf who is also the chairman of the alternative Energy Development Board.
Speaking on the occasion, Sayeed said that the pace of development of this wind farm will depend on the allotment of land by the AEDB.
The Pakistani Water and Power Minister, also for his part, appreciated the roll of the private sector and assured Sayeed of the help needed for the quick completion of the project.