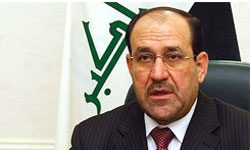 TEHRAN (FNA)- Iraqi Prime Minister Nouri al-Maliki is due to arrive here in Tehran on Saturday heading a high-ranking economic delegation.
The two-day trip is aimed at a discussion of bilateral ties of the two neighbors and their supreme council of economic cooperation.
During his stay in Tehran, the Iraqi premier is scheduled to meet Iranian President Mahmoud Ahmadinejad, Vice President Parviz Davoudi and Foreign Minister Manouchehr Mottaki.
Iraqi Ambassador to Tehran Mohammed Majid al-Sheikh also confirmed the report, and said that the two-day official visit follows economic objectives.
He told the Islamic republic news agency that the two countries are to look into bilaterally relevant issues and mutually signed agreements.
He said in the visit, Maliki will be accompanied by ministers of Commerce, Electricity, Transportation, and foreign minister advisor.
Al-Maliki was scheduled to make his fourth visit to Iran on Thursday, after being elected as the Prime Minister of Iraq in 2006, and his first visit to Tehran after Iraq and the US signed an agreement on the US troops withdrawal from the country by 2011. But the visit was called off last week.
"The delay in a visit to Iran by Iraqi Prime Minister Nouri al-Maliki had no political reason," Chairman of Iran-Iraq parliamentary friendship group Heshmatollah Falahatpisheh said on Saturday.
"The visit was postponed due to some irregularities in planning on both sides," Falahatpisheh said, adding that "the Iraqi prime minister would visit Tehran "at another appropriate time."
The security talks, bilateral economic and political issues were supposed to be on the agenda of his talks with Iranian officials.
The delay had prompted rumors that al-Maliki has postponed his trip due to a possible visit of US President-elect Barack Obama to Baghdad, or because of the uproar in Parliament that followed the resignation of Speaker Mahmoud al-Mashhadani.
Earlier this week, Iranian Foreign Ministry Spokesman Hassan Qashqavi said that the Iraqi premier is scheduled to visit Iran early next week, and said, "The visit has been postponed for some time due to some protocol reasons and has not been put off."