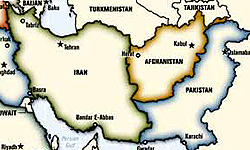 TEHRAN (FNA)- Iran and Pakistan agreed on Wednesday to boost cooperation in power sector and expedite implementation of existing projects, a joint statement signed by Iranian Deputy Minister of Energy Abbas Aliababi and adviser to Pakistan's Water and Power Ministry said.
In the statement which was released at the end of a three-day visit by an Iranian delegation led by Energy Minister Parviz Fatah, officials said the two sides also agreed to set up a ministerial-level monitoring committee to fix deadlines for power projects.
Aliababi and PEPCO managing director Fazal Ahmed Khan will be focal persons for implementation of the projects.
Pakistan has decided to import 1,000 MW of electricity from Iran and a feasibility study will be carried out soon.
The two countries agreed that provision for importing an additional 1,000 MW would be included in the feasibility report.
Iran has said that a dedicated gas-based power plant of 1,000 MW capacity near the southeastern city of Zahedan may be made available for exporting power to Pakistan.
The two sides have agreed that the transmission line for 100 MW will be completed by the end of 2009.
They took note of slow pace of progress on projects for import of 100 MW of power for the Gwadar port and feasibility study for 1,000MW transmission line between Zahedan and Quetta.