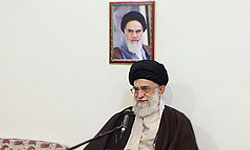 TEHRAN (FNA)- Supreme Leader of the Islamic Revolution Ayatollah Seyed Ali Khamenei said here Sunday that with the US presence in Iraq, no peace can be expected for the Iraqi people.
He made the remarks in his meeting with visiting Iraqi Prime Minister Nouri al-Maliki.
"Our aim is peace, dignity, independence and advancement to Iraqis and will do anything needed to implement this goal," Ayatollah Khamenei said.
Referring to the US presence in Iraq, he said that "The US is treacherous and reneger and is not a good friend even for its close allies in the region, therefore, its promises cannot be trusted."
Iranian President Mahmoud Ahmadinejad also said on Saturday that it was Iran's duty to stand by the side of Iraq.
"Our Islamic and humanitarian duty requires us to be incessantly by the side of Iraqi people," he said.
Referring to the potentially fertile grounds for the bilateral cooperation, he said that "the two countries of Iran and Iraq can enhance their commercial ties in diverse areas at high speed."
Al-Maliki, heading an economic delegation, arrived in Tehran on Saturday morning for a two-day official visit to improve ties between neighboring Iraq and Iran.
Shortly after his arrival, the Iraqi delegation held first round of negotiations with Iranian officials on Iran's partnership in Iraq's development projects.
Al-Maliki and his entourage left Tehran for the northeastern holy city of Mashhad Sunday night.