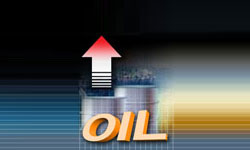 TEHRAN (FNA)- Oil prices surged nearly one dollar in Asia due to the war on Gaza and concerns over the Russia-Ukraine gas supply dispute.
US light sweet oil for February delivery jumped 86 cents to 47.20 dollars a barrel on Monday, while London Brent gained 61 cents to reach 47.52 dollars.
Traders say Israel's ten-day incursion into the Gaza Strip, which has claimed more than 520 Palestinian lives and left 2790 more wounded, has added to the geopolitical risk of obtaining crude supplies from the Middle East.
They believe Russia's stand-off with Ukraine over gas prices has also pushed oil up.
At the same time, the United States and China, the two largest oil consumers of the world, have announced that they are seeking more oil to build up reserves.
The developments came after a senior military commander from oil-rich Iran called on Muslim states to cut crude exports to all countries supporting Israel and its policies against the Palestinians.
"Oil is among the major stimuli that can pressure the Zionist regime's supporters in the US and Europe," Brigadier General Mir-Faisal Baqerzadeh, head of the Foundation for the Remembrance of the Holy Defense, said Sunday.