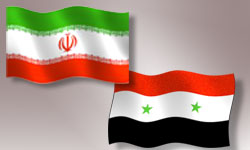 TEHRAN (FNA)- Secretary of Iran's Supreme National Security Council (SNSC) Saeed Jalili and Syrian Foreign Minister Walid al-Mualem on Sunday reviewed the latest developments in Gaza Strip.
The meeting was held prior to Jalili's departure from the Syrian capital yesterday.
Israeli ground assault, ways for urgent cessation of the attacks, withdrawal of occupying forces from the Gaza Strip, lifting the Gaza siege, and opening all crossings were among topics discussed by the two officials, the Islamic republic news agency reported.
Jalili, heading a political delegation, arrived in Damascus Friday night to review the latest developments in the Palestinians lands with senior Syrian officials.
He met and conferred with Syrian President Bashar al-Assad and leaders of several Palestinian groups in Syria on Saturday.
Jalili then proceeded to Lebanon where he met with Several officials of the country including the Leader of Lebanese Hezbollah Seyed Hassan Nasrallah.
Jalili returned to Damascus Sunday evening to meet with another group of leaders of Palestinian groups and parties as well as the Syrian foreign minister.
He also attended a press conference on the Palestinian issues.
Jalili and his accompanying delegation arrived in Tehran Monday morning.