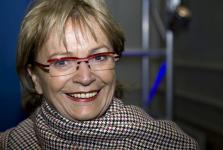 Germany's Doris Pack said the European Union should put pressure on Serbia to normalise its relations with Pristina or risk a continuation of the inter-ethnic violence in north Kosovo.
Belgrade has vowed to never recognise the declaration of independence by its former province and is keeping a firm hold on pockets of Serb minorities in Kosovo, including some 20,000 Serbs in Mitrovica, a flashpoint town divided between Serbs in the north and Albanians in the south.
In the last two weeks tensions in the town spilled over to violent protests, street fights and ambushes that have injured several people and caused extensive property damage.
Pack, a member of the European Parliament, said she could not lay the responsibility for the troubles directly at Belgrade's door, but said that the events suited Serbia and its desire to prove that Kosovo's independence is not feasible.
"The Serbs of Mitrovica live partly on Belgrade's support because they do not accept the Kosovo government," she told Deutsche Welle. "That means it is in their interest that there is no peace there, because in that way they want to achieve their goal that the north breaks off, and no one wants that apart from Belgrade."
Kosovo's Albanian majority declared independence from Serbia in February, nine years after NATO expelled Serb forces accused of mass killings while fighting a guerrilla insurgency.
Pack said the international administration in Kosovo lost a lot of time and achieved relatively little, and although they still deserved help, so far local institutions were not delivering as they should.
"That these things are happening in Mitrovica is for sure not entirely unpleasant to the government in Pristina," said Pack, " because it diverts people's attention from seeing what they get from this new government, this new independence. It is not working as it should, and we have to call a spade a spade."
Pack said the European Union had to 'show its teeth' to Serbia to get concrete results.
"It has no point to say to them in diplomatic, friendly terms 'you shouldn't be doing this. Or, if you might be so kind as to stop supporting the Mitrovica Serbs.' It is of no use, unless we say 'if you do not behave as a lawful state as is expected for a state that wants to join the EU, it will take a very long time until you join the EU."
"If we were a bit more strict and said"up to here, and no further", then surely we could move forward a little bit," Pack added.