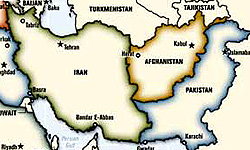 TEHRAN (FNA)- Pakistani police have arrested four foreigners near Pakistan's border with Iran on suspicion of links with international terrorists, sources said on Wednesday.
According to the sources, Panjgur Police believed the four men were members of Al Qaeda who entered Pakistan via Afghanistan and were planning to go to Iran to pursue terrorist activities.
The raid was conducted in Tasp town of Panjgur to arrest two Turkish nationals and two Azerbaijan nationals, a Panjgur-based police official said on condition of anonymity.
All the four suspects were immediately handed over to investigation agencies and shifted to Quetta, he added.
The suspects claimed to have come to Pakistan to acquire religious education, although according to police, it seemed they wanted to cross the border into Iran.