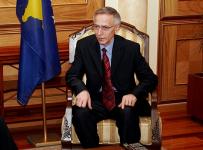 Kosovo Parliament Speaker Jakup Krasniqi has asked Turkish authorities to help the newly independent country get recognised by Islamic countries.
Most of Kosovo's 90 percent Albanian majority are secular Muslims.
During his visit in Ankara, Krasniqi met with his Turkish counterpart Koksal Toptan and Turkish Prime Minister Recep Tayyip Erdogan.
"We ask Turkey to help us with further recognition of our country," Krasniqi said, expressing the appreciation of the people of Kosovo for Turkey¹s efforts on this matter until now.
On the other hand, Toptan said that Kosovo's stability and development was great importance for peace and security in Balkans.
"We will do all we can for preservation of stability in this country and for boosting relations between Kosovo and its neighbours," Toptan said.