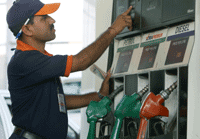 Singapore – Oil rebounded above $42 on Friday amid signs Saudi Arabia would deepen supply cuts next month, after sinking 2 percent overnight on signs of worsening demand from the United States, the world's top energy consumer.
US crude for February delivery rose 85 cents to $42.55 a barrel by 0356 GMT, after sinking 2.2 percent to settle at $41.70 on Thursday. London Brent crude climbed 88 cents to $45.55.
The decline followed Wednesday's 12 percent fall, the biggest daily percentage drop in the price of crude in more than seven years.
Underpinning oil prices is mounting evidence that Opec members are implementing the group's biggest-ever output cuts.
Top crude exporter Saudi Arabia will deepen its supply cuts in February from January to at least three Asian crude buyers, industry sources said on Friday, signaling it is cutting output more to support oil prices.
Earlier this week, Kuwait and Iran also told customers of bigger supply curbs this month in a bid to prop up prices. The producer cartel has cut output three times since September.
The market will scrutinise the US Labor Department's December non-farm payroll and unemployment data due later on Friday, which will likely be dismal, for further clues on future demand.
"At the $40-$42 level, oil is seen as undervalued, so people are now buying back," said Tetsu Emori, a fund manager with Astmax Co Ltd in Tokyo.
"In the short term, weak demand in the US has already been priced in. A lot of people have already sold their long positions, and are looking to buy on dips."
Still, weaker-than-expected sales from retail giant Wal-Mart overnight and a surge in weekly US jobless benefit rolls to a 26-year high reignited fears of flagging demand, offsetting earlier support from escalating tensions in the Middle East and widening supply disruptions from the Russia-Ukraine gas row.
US jobs data due at 1330 GMT on Friday is likely to show the economy probably lost more than half a million workers last month, pushing the unemployment rate up to a 15-year high of 7.0 percent.
Economists polled by Reuters expect non-farm payrolls to register a drop of 550,000 jobs for December, which would make it the worst single month of job losses in 34 years.
Oil has fallen more than $100 from a record peak of over $147 a barrel in July, as the global economic downturn hits demand for fuel. It settled at $33.87 a barrel on December 19, the lowest level since February 10, 2004.
President-elect Barack Obama, who takes office on January 20, has urged US lawmakers to work day and night to pass a massive proposed stimulus package of tax cuts and public-works spending likely to cost $800 billion or more