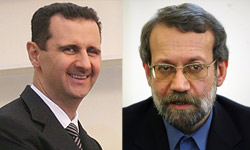 TEHRAN (FNA)- Syrian President Bashar al-Assad held a meeting on Wednesday with visiting Iranian Parliament Speaker Ali Larijani on the situation in the Gaza Strip.
At the meeting, the two officials discussed "efforts and actions that must be taken by Arab and Islamic countries to stop the Israeli aggression on the Gaza Strip and to mobilize international support to pressure Israel into stopping its massacres against the unarmed Palestinians and lift the unjust embargo imposed on them for a long time".
The two sides underlined the importance of working with Arab and international parliaments to condemn and demand a halt of this aggression, urging to ensure the entry of humanitarian and emergency medical aid to the strip.
Following the meeting, Larijani told reporters that his talks with Assad focused on stopping the Israeli aggression and intensifying efforts for the restoration of the Palestinian rights.
"We made consultation about the plans so far put forward in this regard, …We stressed to get use of the international capabilities to stop this Israeli aggression on Gaza so that these crimes will not be repeated by Israel everyday," he said.
Israel waged war on the Gaza Strip on December 27 and began a "long-term" ground offensive on the Palestinian territory last Saturday.
Thus far, the Israeli aggression has killed 763 Palestinians and injured thousands of others – a large number of the casualties are civilians.