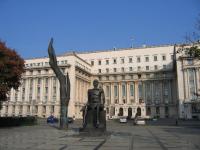 Judge Viorel Andreies was elected the new president of a key body guaranteeing the independence of the judiciary in Romania, the Superior Council of Magistracy, CSM.
The European Union, which Romania joined in January 2007, has urged Bucharest to continue reforms in the justice system – plagued by delays in proceedings and alleged miscarriages of justice — and to carry on the fight against corruption, particularly at the higher levels of the administration.
The CSM's mission is to defend the professional reputation of magistrates and protect them from any interference to their independence or impartiality.
Romanian President Traian Basescu, who attended the CSM meeting, said the country's main aim on short term was "to convince the European Union that Romanian justice reform is going well, and that monitoring
reports do not mention anymore the country's judiciary as plagued by corruption".